MAUI'S
FINEST
STEAK
HOUSE
KA`ANAPALI
FARM RAISED
BLACK ANGUS BEEF – BEST STEAKHOUSE IN MAUI
Our steaks are regularly named the best of Maui restaurants by our guests and the readers of Maui Nō Ka Oi Magazine. We serve only 100% USDA-certified Prime beef, sourced from the plains of the Midwest. Our suppliers go above and beyond to meet the USDA requirements to be considered "all-natural," creating minimally processed cuts of meat that are free of all additives and preservatives. Because we don't just care about where you eat, we care about what you eat. Learn more about our Maui steakhouse menu.
SON'Z AGING
TO PERFECTION
– HYATT MAUI RESTAURANT
Aging a piece of meat is just as important as where it comes from. Aging it for 21 days or longer allows the meat to break down naturally so it becomes nice and tender. This aging period also allows the meat to develop its natural flavor. Our Bone-in Ribeye, New York Strip, and Tomahawk Steaks are dry-aged in-house to help these larger cuts of meat reach their full, succulent potential.
CHEF'S CUT & SEASONING – BEST STEAK RESTAURANT IN WEST MAUI
All of our steaks are marinated in olive oil and fresh herbs and hand-rubbed in Hawaiian salt and fresh cracked pepper. The steaks are then grilled to perfection (whatever your version of perfection is) and finished off under the broiler. The final touches come from a beautiful mound of herb-infused Maître d'Hôtel garlic butter, adding the perfect amount of indulgence to a delicious dish.
SEARED TO YOUR TASTE
How do you like your steak? Whether you prefer the cool, red center of a rare cook or just a hint of pink from a piece of well done meat, we always prepare these incredible steaks to your liking.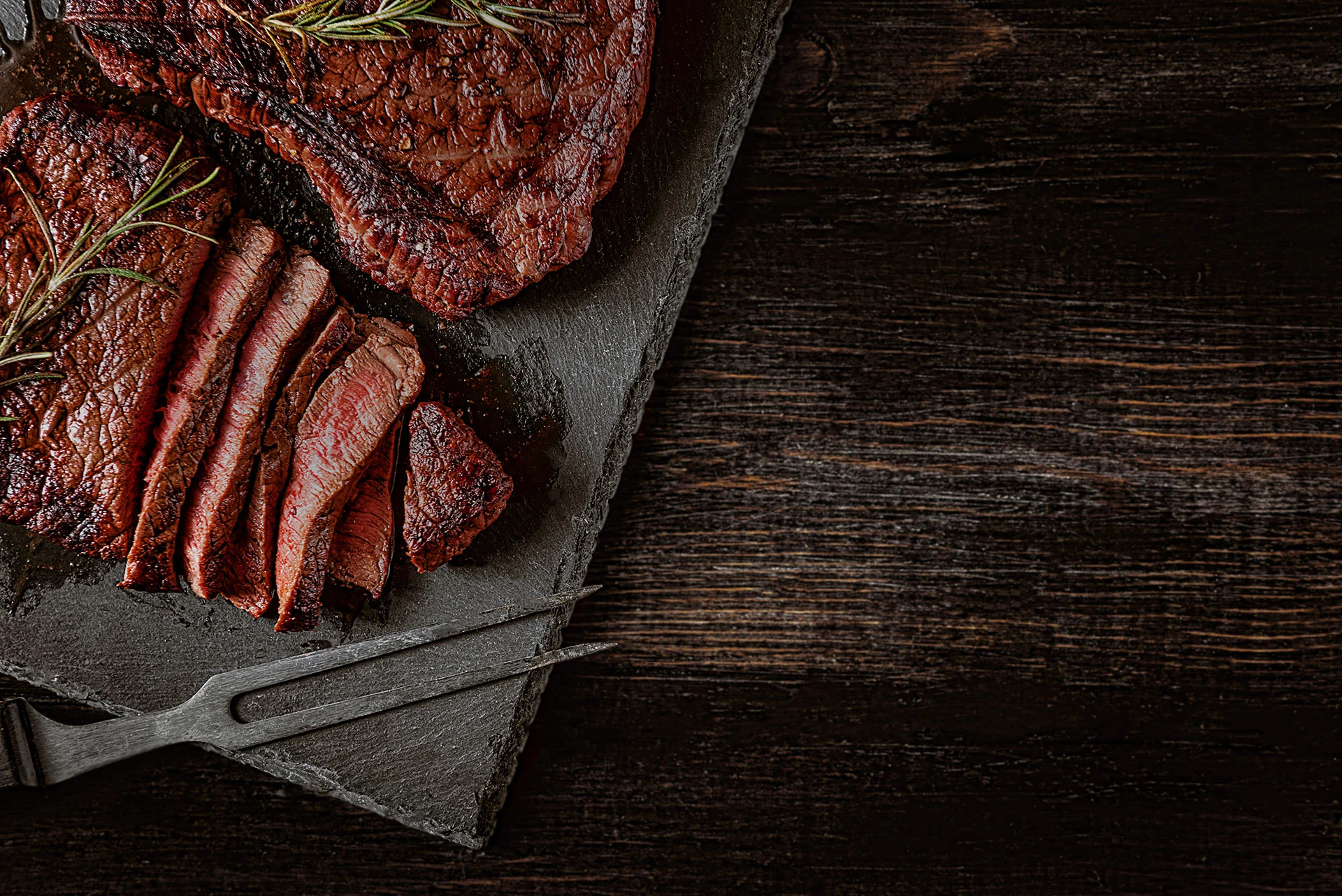 FRESH SEAFOOD CATCH
What's a steak dinner without a little surf with your turf? Enjoy a classic Shrimp Cocktail, Calamari Fritte, or our blackened B&B Ahi to start your meal. For dinner, add a Spiny Lobster Tail or Shrimp Scampi to your plate for a variety of succulent flavors. Feeling more like a full ocean on your plate? Our Catch of the Day comes from nearby Pacific waters and is simply prepared to allow the fish to shine. Mahi mahi, swordfish, and ahi have all been featured as our fresh fish options.
SOMMELIER STOCKED WINE CELLAR
Our elegant wine cellar holds 1,500 bottles of the finest wines from around the world as well as one-of-a-kind vintages. Whether you're looking for a straightforward Cabernet, a full-bodied Malbec, or another beautiful red to pair with your steak, our wine list offers a wide variety of choices to please any palate. Not a big red drinker? Our white selections, ranging from sweet to dry, pair beautifully with our fish and seafood choices. And don't forget a glass of Prosseco to pair with dessert and close out the meal!
a hui hou [until we meet again]
Son'z Team
a hui hou [until we meet again]
Son'z Team
Please be advised that an 20% gratuity will be added to parties of six or more
*Gluten free ~ Consuming raw or undercooked foods may increase your risk of food-borne illness